Name: Noah Tyn
Age: 10
Planet of Birth: Tatooine
Family: Tyn Family
Codename: None
Race: Human
Grander:Male/Female Male
Outlook(You can use Words to describe it, or you can post a picture too)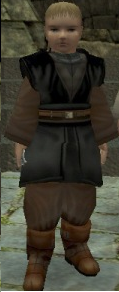 If its Merc add the Class in here!!!<------
Following class: Boy with pistol, is force sensative but does not know this.
History:
The Beggining of my misrable life
Age 8
Noah Tyn woke up on a regular day. He was out in the desert, of tatooine, on a moisture farm. He was with his mom and dad, who loved him, a lot. His father had left and gone into a tournament with the Hutt. This is how it happened. He was in the finals, and took out his sword. He was ready to win the money he needed to get out of the hutt's debt. He charged at the man who blocked his attack with ease. Then the man kicked his dad to the floor. His dad held up his sword and tried to block the harsh attacks coming down at his, but the man cut off his arm. Then he went and cut off the other one. Two men ran into the arena and picked up his dad, who was barely living. Then they faced him to the Hutt, who merely told him that now that you cannot pay the price, your wife will, and you will have no kids. This was because the hutt did not know that he had a kid. Then the man stepped in front of him and took out his sword, and stabbed it straight into his father's heart. He coughed, spit out blood, cursed under his breath and then died. The men let go and his body hit the floor with a clunk.
Noah and his mom did not know this, therefore they were not prepared. Noah was at the table with his mom eating when there was four knocks on the door. His mom went over to see, but the door broke into pieces, and the splinters hit his mom who screamed. Three people stepped in, a male trandoshan, a male rodian, and a female human. The female took out her pistol and shot the mom. The trandoshan looked at the boy and asked the woman what should we do with him, he wasn't mentioned. She responded that if he wasn't mention we sell him. The woman shot a stun bullet at the boy. He closed his eyes and fell unconscious. Then the rodian picked him up and put him and the dead body of the mom on the speeder. They gave the body to the Hutt and sold the boy.
The Selling
Age 8
Noah woke up, and found he was tied to a pole. He looked around at thugs, thieves, and other sorts. They all were shouting around him. What was that he heard money amounts? Then he remembered the mercenaries and realized he was being sold. Finally after a lot of commotion a man came up to him. He probably had bid the highest. He untied him to the poll and screamed at him to get on his knees. He obeyed and then the man screamed, you will address me as the almighty one, do you understand? Noah responded yes. The man took out his vibro whip and whipped him and shouted, that is yes almighty one!!!!! Now do you understand???!!!! Noah responded through tears, yes almighty one. Then the man told him to come and stop being such a baby.
In their home they didn't put the usual bomb for slaves because they were space farers. They arrived at courasant and landed in the lower city. Noah remembered that one of his friends lived in courasant. So he decided to run away. It was the middle of the night he walked out of his room, and crept over to the bedroom, where the man had his pistol. He took the pistol and crept out the door. He ran through the under city and bumped into a tall, fat man. He said Hi, there little kiddy, where are you going? I can give you a bedtime story and make you sleep. Then the man pulled out a pistol but was too slow because Noah shot him. He ran off to the upper city and found his friend. His friend was overjoyed to see him. He then went inside and met his friend's mom and dad, and was also overjoyed.
He will come to find me
Age 9
Noah woke up for the fourth day he had stayed with them. It was a nice bed, and no yelling. Then a thought struck his mind, what if he comes after me? He held his pistol close and was very scared. He walked over to eat breakfast when he heard four knocks on the door. Where have I heard that before, he thought. Then he realized something bad had happened the last time. He reached for his pistol, which he had been keeping secret. His mom walked over to the door. She opened it and he realized it was a simple merchant. He put his pistol back and relaxed. The merchant left after some time. Then the window broke open and the man stepped in. He was very scared. The man shouted NO ONE ESCAPES FROM ME!!! NO ONE!!! His friend's father reached for a rifle but was shot and fell over. His friend ran over to his dad, and Noah realized he was in the man's range. He screamed NO!!!! Then he pulled out his gun and shot the man. His friend and friends mom was alive, but sadly his friends dad was mortally injured.
In the medical facility
Age 9
He sat in the medical facility with his friend. They were both crying. He tried to wipe the tears from his face but more kept coming. A woman walked out of the room. She shook her head. He and his friend ran into the room and saw the father's dead body. His friend burst into tears and layed his head on his father's body. They went home that day, sad and depressed. When they got home he screamed THIS IS ALL MY FAULT! and ran into his room, locking the door. Then his friend walked inside the room, and told him not to think this was his fault, because of him they were still alive, and a criminal was stopped. Then his friend walked out of the room and closed the door. It was at this point he began to reflect on his life, thinking he should give up, what was left for him? But then another thought came and he thought, why should I give up when I have come so far, I need to make the galaxy a better place. After a year they decided to go to his aunt for him to live there.
It's finally over, or so I thought
Age 10
They were flying and flying when they were over a planet on the way to courasant, a ship came near them. It was a large ship that looked mercenary. The friend's mom tried to speed up but the ship got in front of her. Then it shot three blasts which set the front of the ship on fire and killed the mom of his friend and his friend. He was deeply sad, but he had to do something, he was running out of air, there was a fire and the ship would probably fire again soon. He had tears in his eyes when he looked at his friend. Then he prayed and ran into the escape pod. He plummeted down to the planet below, unknown his destiny. The one thing he didn't know was he was indeed force sensitive.