Name: Toren A'skimus
Age: 21
Planet of Birth: Mandalore
Family: A'skimus
Codename: Fire Ace
Race: Mandalorian
Grander:Male/Female Male
Outlook(You can use Words to describe it, or you can post a picture too)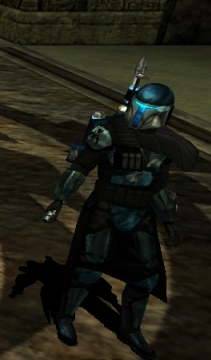 Skirata Mandlalorian Pack
If its Merc add the Class in here!!! Sniper<------
Following class
History:
15 Years Old
Toren had woken up to a regular morning. He had left his parents and decided to train to one day become a merc. He decided to go train with the training droid he had. He walked outside on the sunny morning and activated the training droid. He began his fist fight, the droid threw a punch with it' left arm to his head but Toren dodged it giving him enough time to deal a blow with his foot to the exposed left side of the droids body. The droid then tried to deal a blow to his shoulder but Toren side stepped and grabbed the droids arm. Then Toren threw the droid far and made it land on its back. He ran over and tried to kick it down, dealing the final blow but it rolled over and his foot his hard rock. The droid began to run and Toren chased after it and finally dealt the final blow with a kick to the droid head. Then he sat in the grass panting. His house was still in view. Then he saw something else too, up in the sky...
It looked like three ships, ships that he couldn't identify. He was so far away from his house it looked like a dot, but still he could clearly see these ships were headed straight for his house. He finally realized they were mercenary ships. Three glowing red bombs flew out of the ship and straight for his house. He heard the sound of a dreaded explosion. He ran to his house and found it in ruin. He couldn't scavenge much food. Then he left on his ship to Taris. He arrived at the lower city and joined a tournement, which he won. He found a cantina and was hired by the hutt.
17 years old
The Hutt had sent him on a mission. Some of the other mercenaries thought he was too young, but the Hutt chose him because he had amazing fighting skils. He was sent to take out a band of mercenaries who had stolen an important shipment of cargo from the Hutt and we now residing on the planet. He landed on a hill just outside of the outpost. He secretly went through a forest. He had almost gotten to the mercenary base when he saw an explosion; it looked like where he had landed the ship, because it was. He hid by a bush. There were two men outside, armed. He took out a sniper rifle and shot one of the men. The other man ran over to see what had happened and was also shot. He almost thought it was safe when he discovered mercenaries were behind him. Ducking for cover on a nearby tree, he took out his pistol and started firing. He fired and shot down many men, but he knew he was outgunned, and outnumbered. Then he was shot by a stun bullet. He struggled to keep shooting, but his eyes began to close, then he closed his eyes and his body hit the ground.
He woke up and yawned. He was now in an oval like room, with a balcony on the other end, and a large door. There was a dirt floor and two skeletons next to him. He looked up at the balcony and saw the criminal leader. He reached for his weapons but realized they were gone, all except his pistol. The criminal leader laughed at him and hit a button, this caused the large door to open, slowly. A rancor walked out and roared, drool hanging out of its mouth.
He stood there as the rancor opened its mouth and roared again. He took out his pistol and shot the rancot, but nothing happened. He then changed targets and shot the two men on the balcony who were gaurding the leader. They fell with a clank on the ground distracting the rancor. Toren took out his grappling hook and shot it at the balcony. He climbed up and did a flip, landing behind the criminal leader. He held his gun pointed at the criminal leader. The criminal leader begged him not to shoot, and he lowered his gun. The criminal leader closed his eyes and sighed. This gave him just enough time to take his gun and shoot the criminal leader. His body fell to the floor. He picked up the body and walked out through the door.
Afterwards he walked to the hanger. He shot two guards guarding the criminal leader's ship and stole it. He took off and left the base. He arrived at the cantina and gave the body to the hutt. Then he left the planet on the criminal leaders ship. He then decided to find more work, whatever work it might be...